Custom Space Center preview ↩
This example shows how to draw something into the glyphs of a Space Center preview.
The script simply draws a rectangle at each glyph's bounding box. Whenever a glyph is changed, its preview is updated automatically.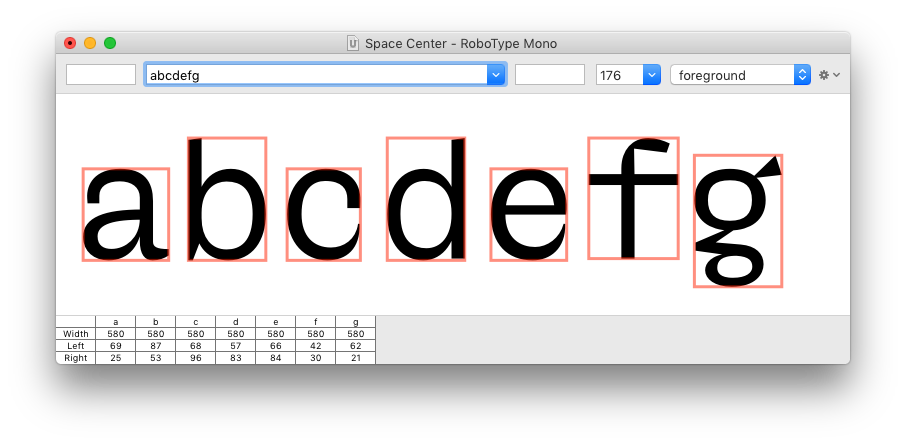 Important in this example is the use of representations to create and cache shapes – this approach is recommended for better performance.
from

 

vanilla

 

import

 

FloatingWindow

,

 

CheckBox




from

 

defconAppKit.windows.baseWindow

 

import

 

BaseWindowController




from

 

mojo.events

 

import

 

addObserver

,

 

removeObserver




from

 

mojo.UI

 

import

 

CurrentSpaceCenter




from

 

defcon

 

import

 

Glyph

,

 

registerRepresentationFactory

,

 

unregisterRepresentationFactory




import

 

mojo.drawingTools

 

as

 

ctx




from

 

fontTools.pens.cocoaPen

 

import

 

CocoaPen





def

 

BoundsRectFactory

(

glyph

):


    

'''A factory function which creates a representation for a given glyph.'''


    

pen

 

=

 

CocoaPen

(

glyph

.

layer

)


    

if

 

not

 

glyph

.

bounds

:


        

return


    

x

,

 

y

,

 

w

,

 

h

 

=

 

glyph

.

bounds


    

pen

.

moveTo

((

x

,

 

y

))


    

pen

.

lineTo

((

w

,

 

y

))


    

pen

.

lineTo

((

w

,

 

h

))


    

pen

.

lineTo

((

x

,

 

h

))


    

pen

.

closePath

()


    

return

 

pen

.

path





class

 

BoundsRectViewer

(

BaseWindowController

):



    

'''A simple floating window to toggle the preview on/off.'''



    

def

 

__init__

(

self

):


        

self

.

w

 

=

 

FloatingWindow

((

123

,

 

40

))


        

self

.

w

.

preview

 

=

 

CheckBox

((

10

,

 

10

,

 

-

10

,

 

20

),

 

'preview'

,

 

value

=

True

,

 

callback

=

self

.

updatePreviewCallback

)


        

self

.

setUpBaseWindowBehavior

()


        

# register the representation factory in the defcon Glyph object


        

registerRepresentationFactory

(

Glyph

,

 

"BoundsRectPreview"

,

 

BoundsRectFactory

)


        

# add an observer for drawing in the Space Center


        

addObserver

(

self

,

 

"drawBoundsRect"

,

 

"spaceCenterDraw"

)


        

self

.

w

.

open

()



    

def

 

windowCloseCallback

(

self

,

 

sender

):


        

'''Clear observer & representation factory when window is closed.'''


        

super

().

windowCloseCallback

(

sender

)


        

removeObserver

(

self

,

 

"spaceCenterDraw"

)


        

unregisterRepresentationFactory

(

Glyph

,

 

"BoundsRectPreview"

)



    

def

 

updatePreviewCallback

(

self

,

 

sender

):


        

S

 

=

 

CurrentSpaceCenter

()


        

if

 

not

 

S

:


            

return


        

S

.

updateGlyphLineView

()



    

def

 

drawBoundsRect

(

self

,

 

notification

):


        

'''Drawing the bounding box around each glyph.'''


        

S

 

=

 

CurrentSpaceCenter

()


        

if

 

not

 

S

 

or

 

not

 

self

.

w

.

preview

.

get

():


            

return


        

# get the current glyph


        

glyph

 

=

 

notification

[

'glyph'

]


        

# get representation for glyph


        

boundsRect

 

=

 

glyph

.

getRepresentation

(

"BoundsRectPreview"

)


        

if

 

not

 

boundsRect

:


            

return


        

# draw representation


        

scale

 

=

 

notification

[

'scale'

]


        

ctx

.

save

()


        

ctx

.

fill

(

None

)


        

ctx

.

strokeWidth

(

3

 

*

 

scale

)


        

ctx

.

stroke

(

0

,

 

1

,

 

0

,

 

0.5

)


        

ctx

.

drawPath

(

boundsRect

)


        

ctx

.

restore

()





BoundsRectViewer

()